Frequently Asked Questions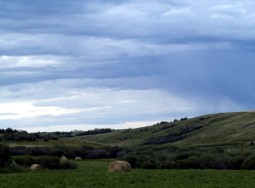 1. What is natural beef?
The United States Department of Agriculture defines natural beef as a product that is minimally processed with no artificial ingredients or preservatives. Willowbank Ranch's definition of "natural" includes beef that comes from animals that are born and raised on our ranch. You know where your food is coming from. Our beef is hormone and antibiotic free, and is never fed animal by-products. Our animals are fed in large pastures, and have access to clean water and suitable shelter.
3. Is your beef grass fed, or is it grain fed?
Willowbank Ranch beef is both grass and grain fed. We background our cattle on native grass in the Foothills of the Rocky Mountains, and finish them on grains during the last 2 to 3 months to give good marbling, flavor and taste to the beef. 100% grass fed beef is gaining interest, however the quality beef you are used to eating in Canada is grain fed beef. In poorer countries, they cannot afford to feed grains and therefore do not have the same quality of beef as we do in Canada.
We offer you the best of both worlds, cattle raised on natural open grasslands, and finished in large pens on hay and grain.
4. Why do you age your beef?
We age our meat for a minimum of 21 days to intensify the flavor and naturally increase the tenderness. Aging is an essential step in providing high quality beef.
5. Why is your beef only available in winter/spring?
The best product that Willowbank Ranch can offer you is in the winter/spring. Our cattle are born and raised on the ranch in the spring, weaned from their mothers in the fall, fed on the ranch all winter and put on our grass in the summer, brought home at the end of summer and finished on the ranch with a hay and grain diet. Typically you can expect your beef to be ready in early April. Our beef is grown with the natural cycle of the seasons in Alberta.
6. What kind of packaging should I expect?
When you order your half or quarter of beef, we will call the butcher and provide them with your custom cutting instructions. The beef will be cut and wrapped in brown freezer paper according to your instructions, labeled and frozen. We have all of our Willowbank Ranch Natural Beef processed at a professional meat processor where the meat is provincially inspected, and cut to your specifications.
7. Do I pick my order up, or is it delivered to me?
Generally, the beef is picked up by us from the processor, and brought to a convenient location to be transferred to you. We use a processor just north of Calgary, and depending on your location; we will work with you to figure out the best way to get you your beef. We do not charge any additional cost for transportation, and therefore expect that you can meet us at a mutually convenient location. We pick up several orders at a time from the processor, and do not have any storage at the farm for the beef. You also have the option to pick your beef up directly from the processor.
8. Any tips for me on custom cutting my half or quarter of beef?
We have a detailed online order form and cutting sheet for you to fill out that will allow you a great deal of choice as to how your beef is cut. You can choose how thick you want your steaks, how many steaks per package, the size of your hamburger packages and so on. You can also choose whether certain cuts of meat are cut into steaks or roast. You also have the choice to have the less tender cuts of meat, such as the chuck, ground into lean ground beef. If you go to our Links page, we have included some information that will help you out, or feel free to contact us at and we will try to help!
9. What about storing all that beef?
The best way to store your beef is in a deep freezer. If you go to our links page, you will find a few links to some major stores that sell freezers. For about $500, you can have 10-18 cubic feet of freezer space. One cubic foot of freezer space will hold approximately 22-28 pounds of meat. The freezer space above the refrigerator is about 2 cubic feet. A quarter of beef requires a five cubic foot freezer, and a half will need an eight cubic foot freezer.
10. What does your beef cost?
We accept payment by cash or cheque. We require a non-refundable deposit at the time of order for the beef:
Price for a half of beef
300 lbs (average size of a half) 1/2 beef hanging weight @ $5.30 per lbs = $1590.00
$50 inspection fee
Total average cost for 1/2 beef = $1640.00
Average cost per lbs of packaged meat (about 195 lbs) = $8.41 per lbs
Price for a quarter of beef
150 lbs (average size of a quarter) 1/4 beef hanging weight @ $5.40 per lbs = $810.00
$25.00 inspection fee
Total average cost for 1/4 beef = $835.00
Average cost per lbs of packaged meat (about 98 lbs) = $8.52 per lbs
12. What are your payment options and how do I order?
We accept payment by e-Transfer, cash or cheque. We require a non refundable deposit at the time of order for the beef:
Half of beef - $200 deposit
Quarter of beef - $100 deposit
Cheques can be made out to Krista Miller, and mailed to the following address:
Krista Miller
Box 20, Site 3, RR 1
Okotoks, AB
T1S 1A1
To order beef please contact Krista at or 403-312-8703.
Copyright © Willowbank Ranch - All Rights Reserved.